This week, my group presented on Web 1.0 and 2.0. We discussed everything from the history of the web to theories of learning as they relate to the web to creating a collaborative document using Web 1.0 and 2.0 tools and finally to a discussion of social media which is a huge part of Web 2.0. We had just got our heads wrapped around Web 1.0 and 2.0 and then….Alec threw a Web 3.0 blog prompt at us!
What the heck is Web 3.0 anyway?
Alec asked us to think about the following thoughts:
"The web influences people's way of thinking, doing and being, and people influence the development and content of the web.  The evolution of the web from Web 1.0 to Web 2.0 and now to Web 3.0 can be used as a metaphor of how education should also be evolving, as a movement from Education 1.0 toward that of Education 3.0.  The Web, Internet, Social Media, and the evolving, emerging technologies have created a perfect storm or convergence of resources, tools, open and free information access." (Jackie Gerstein)
Gerstein's metaphor of a "perfect storm" of resources, tools, open and free information access is a great description of what the web has become. We all know there are endless tools to use, information is endless and there are pros and cons to each click we make on the web. The potential effect that each of our clicks has is part of this storm. Our choices with the current web are endless but there is implications for everything we do.
This chart gives some ideas of what the world and education will look like as it has evolved in different stages of the web: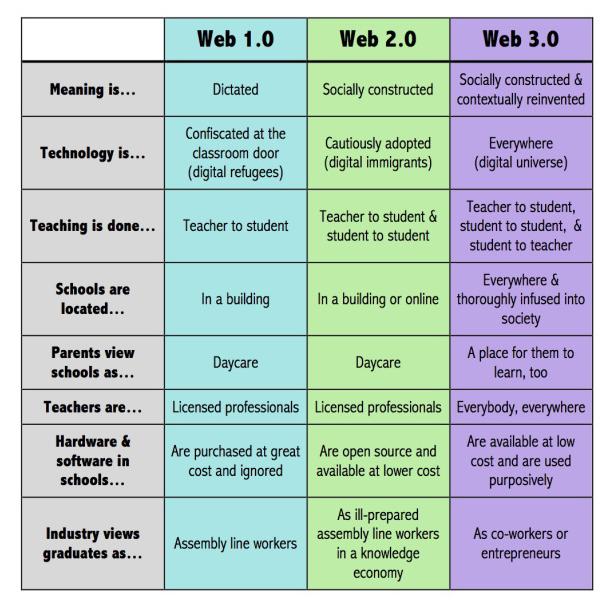 I would like to wrap up the blog post by examining the following thoughts…
This article provides some great examples of how Web 3.0 will effect education. The responses are presented by a few leading tech / education gurus. Here are a few of my favourite responses:
"For a generation, schools spent money on hardware and software, and the results didn't point to the idea that these technologies were demonstrably improving learning outcomes. Now, we have millions of kinds of devices that can access the Internet. So it's not necessarily that you have to buy one type and it equals educational technology. Eventually, all machines will be Internet-connected, and the "educational" piece will be in the way teachers use the digital world to foster learning" – @BlakePlock
"Another great disruption is the fact that there are people who are going to say, "We can do all this for next to nothing." Sebastian Thrun of the Stanford AI class and his team at Udacity realized they can amortize costs across thousands of students and ultimately might be able to offer a computer science degree for as little as $500. Contrast that with the cost of a college education, and you see just how disruptive this could be"- Tim O'Reilly 
"Good teachers have always involved students in complex projects. But in the past, it's been more difficult, with just the library down the hall and the teacher's knowledge to guide them. As personal and continuous access to a Web 3.0 environment becomes a reality, teachers will be able to develop engaging, interesting and more complex assignments that are supported by a variety of resources. Students can understand more about, say, backyard bugs by engaging with an entomologist online, or earn a digital badge as they demonstrate advanced search techniques" – @OfficeofEdTech
Thanks for reading!